Commitment to Quality
At K&S Tool and Manufacturing Company, quality is THE essential mission in our manufacturing. We will not sacrifice it for any reason. We build in quality through the very processes that change raw materials into the exact final product you desire. We begin from the first time we quote the work for you, through the initial production run, and then we constantly and continually refine and hone again and again in a never-ending cycle of improvement.
Our Quality Objectives
All of our employees learn and understand our four quality objectives:
Satisfied Customers
Zero Defects
On-time Delivery
Continuous Improvement
We track and measure these objectives and share our measurements with our employees so we don't just talk the talk—we walk the walk.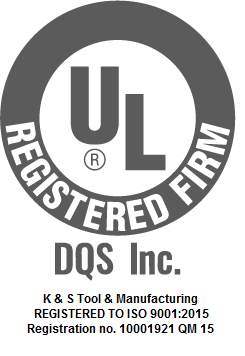 REGISTERED TO ISO 9001:2015
CERTIFICATE #1000 1921 QM08
ISO Certification
The quality system used in all of our facilities has been registered by DQS, Inc. to the ISO 9001-2015 standard. DQS conducts regular audits to continually assess our ongoing compliance.
Advanced Product Quality Planning (APQP)
Before we make the first cut or shear or saw mark, we plan quality into the process we are going to use for your product. This process is done for all products we make, whether it is formally documented or not. For those customers who require AIAG compliant documentation, we proudly use MQ1 software by CEBOS to prepare the entire range of requirements, from the Process Flow through to the Control Plan and Operator's instructions, and we integrate documents for all nineteen elements of the AIAG standard.

Process Control and Continuous Improvement
We believe that the heart and soul of quality is through process control. Once we design a quality process through the APQP function, we take that to the shop floor in the form of written work instructions to communicate to all involved how the process must be controlled to repeatedly produce quality for you every time. Through our continuous improvement program, we seek to refine this process to enhance what we are giving you through better efficiencies, defect avoidance, and improved throughput.

Quality Assurance
Our employees are trained that everyone is responsible for controlling the quality of your product. In addition, we have employees who are charged with the responsibility of quality assurance—that is, to report and verify that the system of quality is functioning and provide quality data to you upon request.
Our quality assurance staff, under the supervision of our QA Manager, is fully equipped in order to meet your specifications. All gages and measuring equipment are maintained in accordance with MIL-I-45208A standards (again through the MQ1 software). All of the necessary equipment is on hand, including coordinate measuring machine, optical comparator, Faro arm, and a myriad of testers, gages, and meters.
At our 614 Plant, we use a Brown and Sharpe One Shop Floor coordinate measuring machine to further enhance our QA measurement capabilities. This fully motorized and controlled machine makes repeated measurement for capability studies much more efficient and provides for routing inspection of periodic requirements simple to execute.
At our 1249 Plant, we use a Faro 3D Measurement system to measure and laser-scan fabrications and weldments and can compare them directly to CAD model files that you provide to us for proper form, fit, and function.